Next cohort begins January 9th. Early bird opens:
Somastery Somatic Therapy Certification
The Somatic Therapy cert you've been looking for.
Everything I learned from 3 years of schooling, and 6 years of practice, put into the quickest, easiest, and most affordable training on the market. Become a master at facilitating subconscious rewiring, trauma healing, and emotional release - Through the body
ENROLLMENT OPENS DEC 11TH
Masterfully guide your clients, and yourself, through the most radical healing.
Somatic therapy allows us to have a direct conversation with the UNCONSCIOUS mind (you know, the part that's truly governing your emotions and mental health?). This gives us power to rewire behavioral, mental, and emotional constructs at speeds modern psychotherapy thought was impossible. Welcome to the world's most effective, cutting edge trauma therapy.
Here's what you'll learn:
01
Become fully trauma informed and learn to work with the nervous system & unconscious mind.
02
Learn a modality that can be conducted in person OR virtually, creating time and location freedom.
03
Confidently overlay this technique with any existing healing modality, or use as a stand-alone therapy to begin your career.
This Training Begins January 9th 
- 2 weekly 90 minute calls on Tuesdays and Thursdays at 1 PM Mountain Time. (calls are always recorded and uploaded to your online portal in case you miss any!)
- Weekly pre-recorded Videos and masterclasses
- Expect to commit about 6 hours a week TOTAL to this course.
- BIPOC community members receive HALF OFF - contact Kaira at 720-429-5397 for a special checkout code. 
When I wanted a quality, affordable somatics training...
I couldn't find what I was looking for.
I learned about somatic therapy first from working with DMT medicine as a facilitator for 2 years. I wanted to dive deeper into somatic wisdom and looked for a great school.

10K is what I paid for my schooling...

3 years is how long the program was...
There were things missing that I learned from my work with plant medicine that I wanted to teach!
I felt taken advantage of, because the last few modules felt like they were trying desperately to create more content, that wasn't very good, just to keep me paying...
But now you don't have to do that.
Because I created a distilled, easy to digest, affordable, quality somatics training.
3 Things you may want to know:
YES This is a pre-requisite for Somastery's Psychedelic Facilitation & business training
YES you can save money by bundling the certifications. (the next round of the Psy + business training is TBA!)
YES this is a complete training that will qualify you to be doing paid somatic sessions with clients within 2 months. 
Make sure to sign up early to watch all the prep material before we begin!
"

Kaira's training was exactly what I was seeking. Learning about the nervous system and somatic therapy was immediately helpful in my current healing arts practice. However, its been incredibly profound in regards to my own healing.

"
Jen Roseman - Somatic therapy & Psychedelic facilitation certification student
Introducing
Somastery's 2 month Somatic Therapy Certification
Everything you need to begin masterfully facilitating somatic emotional releases, subconscious rewiring, and trauma healing.
Video content
Every week you'll have 2-3 fun, informative video lessons that provide the foundation for the course. These are usually 20 minutes long with an occasional longer masterclass thrown in.
2 Weekly group calls
90-minute calls on Tuesdays and Thursdays at 1 pm MST. We will go over the video material, practice what we learned, and do some deep healing of our own. 
Private message portal
Members get access to our group chat where you can share resources, victories, and struggles, arrange practice sessions with your peers, and keep up to date on any special info!
Access to:
BECOME - A potent body based manifestation masterclass series that you get recorded, AND you get to join us live the next time it launches!
FUNDAMENTALS - A 5 video series that will teach you about the 5 channels of somatic awareness
BONUS: TAKE IT TWICE
This means that instead of 2 months of instruction and support, you're actually getting 4! My students find that taking this program twice allows them to really integrate the material and feel really supported and connected as we learn and grow together. PLUS you have the option to mentor the new students on your second round and earn a level 2 certification. 
Here's what you'll learn
Everything you need to become a masterful Somatic Therapist
Module 1
Trauma & the nervous system
Did you know that the root cause of Depression, Bi-polar, OCD, Anxiety, and SO MANY MORE diagnoses are actually trauma? We are going to learn ALL about how the nervous system works and how to use somatic awareness and movement to interface with the deepest components of our human existence.
Module 2
Reading Fight/flight/freeze
This is where you become supernatural. By learning to read the body's cues, we open doorways into the subconscious, and discover a roadmap that leads us to the CORE of the issue. Then we learn how to use awareness, imagination, and movement to complete the body's survival responses, and purge the energy that is stuck in the system. Effectively healing trauma.
Module 3
Masterful Facilitation
From building rapport to asking the right questions at the right time, our mission as expert facilitators is about building cohesion and presence with what is here now. In this module we will teach you to hone your intuition, track their tolerance for intensity, their rhythms, and help them to get out of their minds and into the body. You'll learn when and how to guide their awareness vs. surrender to their natural intelligence, becoming the safest and most effective facilitator they've ever worked with.
Module 4
Coupling, Sequences, and finding truth.
In this module we learn how to hack patterns of thought, behavior, and emotion. Somatic therapy is, in essence, about being with what is TRUE, so we help you find your voice and teach you to leverage what you and your client are truly seeing in a session. With clarity and presence, any unhelpful pattern is broken.
How does this sound?
You're finally able to build...
A higher income - By increasing your client results and having the ability to facilitate life-changing sessions, you'll feel confident increasing your rates and building high-ticket packages.
Location freedom - I once tried to prove Somatic therapy wasn't as effective over zoom - I failed. This modality works from anywhere, giving you the freedom to do sessions while you travel and enjoy life.
A high-ticket option for your best clients - Face it, you have 2 choices, time for money OR Results for money. You can only raise your hourly rates so much! When you have a modality like this under your belt, you take steps towards crafting an EXPERIENCE for your clients that's truly life-changing, and unforgettable.
The mental health of your dreams - **Some people take this course just for themselves!** When we can rewire our own traumas, self esteem, and emotional patterns we build the personal power to change our own lives. Your desires are divine guidance to what is meant for you. Learn how to make yourself an emotional and energetic match to your dream life.
Sarah Rochowiak
"I love all of this program, I'm staying up till the late hours watching the videos and implementing it. I'm telling everyone about this."
Bree Marie:
"Using somatics in my everyday life has allowed me to find more presence In my relationships with family and intimate partners. I am so thankful for this opportunity to have learned the tools and receive the safe space Kaira brings."
Course begins on January 9th!
And there is more!
When you enroll, you'll also get these awesome bonuses:
Bonus #1
Fundamentals Mini course!
Immediately upon purchase you'll get access to this 5 video mini course on the fundamentals of Somatic therapy!!
Bonus #2
Become challenge
You'll also get immediate access to our last live round of the Become Challenge! This includes 2 LIVE masterclasses on using Somatics to rewire our unconscious minds to be a match for the income and relationships we truly want.
Bonus #3
Take it TWICE
I believe that once you pay for it, it's yours. So not only do you have lifetime access to all the training material, I invite ALL my students of the certification program to join us again the NEXT time we launch the certification. This means you're essentially getting 4 months of training for the price of 2.
All BIPOC community members get 1/2 off the price.
The BIPOC community faces challenges, traumas, and nervous system hardships that the white community in America will never truly understand. This is Somastery's way of making sure the black community and all people of color receive adequate support and fair opportunities to learn and spread these life-changing healing tools. Together we rise.
Contact Kaira Personally at 720-429-5397
Meet your teacher
Hi, I'm Kaira Mayestra
Whether you found your way here through my music, or you have just followed the threads of your intuition and desire for deep somatic wisdom, I welcome you whole-heartedly.
I began my somatic journey with Plant medicine and learned through DMT that somatics is a language that speaks to our unconscious minds. Once we learn this language we gain access to a direct conversation with our nervous system, our emotional reactions, and our mind's autopilot setting. We harness the power to heal trauma and change who we are being on the most fundamental levels.
I walk my talk. I used this language to heal my own trauma, then rewire myself into the woman I want to be, including having the relationship of my dreams, a consistent 15K month income, and owning a healing business in alignment with my soul. And I know in my bones that you can do all of this too.
Welcome to my world, babe!
It's is possible for you too.
A career as a Somatic Healer
01
Join Somastery Somatic therapy
Click the enrollment button and follow the checkout steps. In minutes, you'll get an email will your login details.
02
Dive in and take action
Dive into the content and take action. Can't start right away? It's okay, you have lifetime access to the course.
03
Become the healer you're meant to be.
Harness these tools to deepen into the healing that is meant for YOU, then use them to become the version of yourself who can do it for others too.
This course is perfect for you if:
You've been looking for somatic, trauma, and body based emotional release wisdom.

You understand that you can only take people as far as you can take yourself, so you are SO excited to learn Somatics for you as well as your clients.

You are ready to learn a modality that makes time and location freedom possible in your healing practice

Oh, and btw, this course is REQUIRED if you are going to join our Somastery Psychedelic Facilitation training down the line :).
This is not for you if:
You are not able to commit 5-7 hours a week to homework and practicing this modality (don't worry babe, it ALL is so fun!!)

You want a license to practice therapy that's recognized through the state (this program certifies in Somastery Somatic Therapy. Your current state won't recognize this as a license). You'll be in school for a few years if you want that!

You are just looking for letters after your name and aren't willing to let this be an opportunity for YOU to deeply transform. (In my containers, we go deep, you must be willing to hold the possibility that this will change your life)
Angela Doyle:
"Kaira is not only a gifted somatic therapist, but her ability to clearly articulate what she is teaching and her willingness to share all her wisdom are what have made this program worth it for me."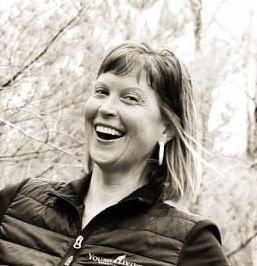 Jennifer Rasmusen:
"BEST ONLINE CLASS I HAVE INVESTED IN!"
Are you ready to say YES to yourself?
If you've made it this far onto this page, it's because something inside is saying YES. Yes to transformation, yes to more impact and income, yes to healing myself along the way, yes to believing this expansion is what I've been looking for.
Have you ever met a person that knew in their hearts that they could figure something out? They do. And you can. Whatever is in the way, find where you feel it in your body, listen to it deeply, and after that, if you're still a yes...
Come join us.
Do you want it? →
Frequently Asked Questions
What if I just want to learn somatics for myself??
Do black and POC lives matter?
Is there a money back guarantee?
Do you swear in these programs?
Is this program appropriate for a specific type of trauma work (racial, lineage, physical, etc)??
Can I contact you with a question?
Is this program inclusive to all genders, races, sexual orientations, and religious affiliations?
Course begins on January 9th!